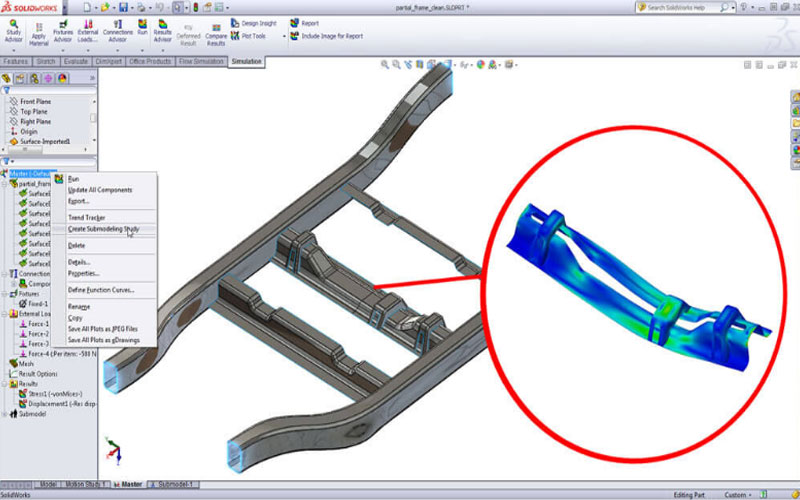 12 Sep

Submodelling in Solidworks Simulation

Submodelling is a new feature which became available with the release of SOLIDWORKS 2013 and is part of SOLIDWORKS simulation professional and premium package, which helps the designer to easily create more accurate Submodel studies for specific areas within your design that automatically utilize boundary conditions and loads applied to the full 3D model using SolidWorks Simulation Submodel analysis.
Submodeling Study Overview
Submodeling is based on the St. Venant's principle which states that the stresses reasonably distant from an applied load on a boundary are not significantly altered if this load is changed to a statically equivalent load. The innovative Submodeling study technique of SolidWorks Simulation enables you to accurately test large and complex 3D models by performing precise simulation analysis for specific areas of interest faster and more efficiently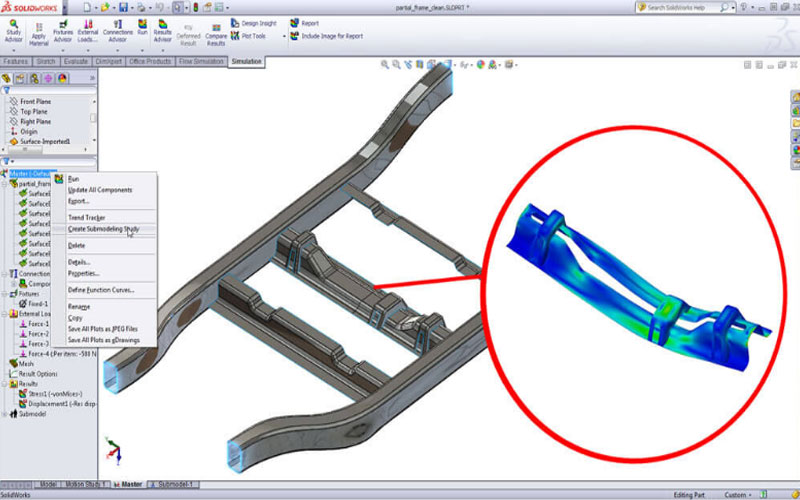 Submodelling in Solidworks simulation
When running Simulation studies with large assemblies, the Submodeling feature allows you to refine the results on critical parts instead of having to rerun the analysis for the entire assembly to determine the deflections and stresses.
Once we have this initial study complete, we can then identify parts that we'd like to investigate in more detail in a Submodel. By right-clicking the name of the study and selecting "Create Submodel" you're presented with a list of which parts you want to select.
The study should meet these conditions to be eligible for a Submodeling study:
The study type must be having more than one body and should be Static or Nonlinear static and not be a Submodeling study in itself.
The parent study should not be a 2D Simplification study.
The selected bodies that compose the Submodel may should not have No penetration contact with unselected bodies that result in contact pressure across the cut boundary.
The selected bodies that compose the Submodel should not share any connectors with unselected bodies.
By taking advantage of this Submodelling capability, we were able to concentrate our analysis on key components in a large assembly with higher efficiency and less effort.